Accessibility Compliance Consulting
We consult with Architects, Building Owners, Developers, Property Managers, Attorneys and Tenants, for accessibility issues with both the Americans with Disabilities Act Standards (ADAS) and the California Building Codes (CBC).
Accessibility Seminars & Training for Organizations & Groups
We provide professional seminars and customized presentations intended to help your team, company, or professional organization get educated about important accessibility subjects that affect your business.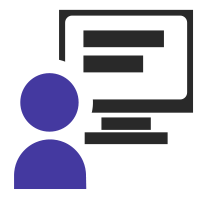 NEW! On-Demand Accessibility Webinars
We now offer on-demand webinars in elective and self-assessment formats that earn learning units and can be used for California architecture re-licensing, CASp re-certification, AIA LU | HSW, or as self-reported for other organizations.
"I enjoy seeing your newsletter emails – your issue-focused blogs are must-reads for all designers and architects!"
"STA seminars are architecturally presented by an architect who understands architects' dilemma regarding accessibility issues."
"The seminars I have attended are impressive in the thorough coverage of compliance issues with cogent descriptions."
"I have taken several classes as well as purchased books from Janis and found that the clarity of her presentations make the difficult subject of accessibility much easier to understand."
"Janis Kent's Stepping Thru Accessibility has been my go-to source of truth for the ever changing accessibility code landscape for years. Count on her documents to enhance your firm's understanding of universal design that is accessible to all."
"ADA in Details is the definitive work among accessibility references, and will be an essential resource in the technical library of any office or individual interested in accessibility. Highly recommended!"
Publications, Tools, and Resources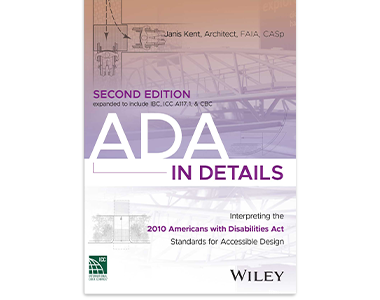 NEW

ADA in Details: Second Edition

Now Available: ADA in Details - Second Edition includes updated visual interpretations of the ADA Standards for Accessible Design in a user-friendly format packed with practical design details.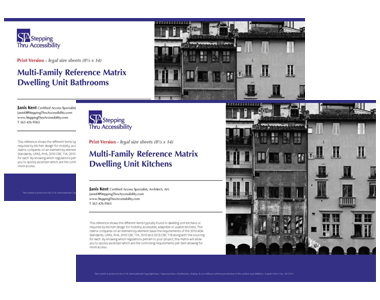 Multi-Family Reference Matrices
Don't miss these multi-family dwelling unit comparative guides of codes and federal regulations for kitchen and bathroom design.
Accessibility eBook Series
Curated collection of articles exploring accessibility for restaurants & bars, hotels & transients lodging, and restrooms.
Upcoming Seminar Events
Stepping Thru Accessibility seminars are held through professional and private organizations. They are a perfect way to earn educational credits and deepen your knowledge of specific accessibility-related topics. Seminars are held across the country and online.
---
Inquire About Private Seminars
Janis Kent is available for booking of public or private seminars. For more information, contact us.
Stepping Thru Accessibility Blog
October 3, 2023
Explore the impact of Color Vision Deficiency in daily life. Read about its prevalence, types, effects on job choices, and tips for design considerations.
Continue reading Color Vision Deficiency Known as Color Blindness »